Our Mission:
To create robotic manufacturing systems with exacting process control. Our systems provide affordable manufacturing solutions for our customers, solutions that keep them on the cutting-edge of new technology while helping their businesses to succeed and grow. 
As greater precision in automation yields reduced scrap rates and lower material usage, we strive to develop sub-systems that ensure precision in the face of day-to-day production variability. Our decades of experience with production automation and a policy of continuous innovation through research is applied on behalf of our clients to ensure global competitiveness. 
We continue to further develop applied automation intelligence which enables our systems to initiate corrective action without operator intervention. 
A committed partner in working for the success of our customers, New Precision Technology, Inc. not only sells robotic systems, we are here to analyze your manufacturing process and evaluate working methods to design and deliver the processes you need to succeed.
New Precision Technology, Inc. is a leader in affordable standard and semi-custom automated systems for dispensing, soldering, gasketing, conformal coating, pick & place, vision inspection, and sensing.
Vertical integration and proven base designs ensure we provide best-fit solutions for your assembly projects. Flexible components and robust command sets yield a renewable asset – essential qualities in today's world of limited product lifecycles.
To learn more, give us a call at 412-596-5948, or visit our Contact Us today.
Our Skills:
Analyze a manufacturing process for automation opportunities
Evaluate working methods and systems organization for planned automation
Design dedicated fixtures for a wide variety of work pieces
Seamlessly integrate equipment into existing manufacturing structures
Implement easy-to-use operator interfaces (both equipment and PC based)
Meet the need for high volume and high accuracy in rapidly deployed systems
Understand the need for and produce clear documentation
Why Choose New Precision Technology?
Automated Tools for 21st Century Results
New Precision Technology is constantly researching new machine features to benefit our customers. Not only do we solve your production issues, we anticipate future issues and develop solutions that integrate seamlessly with minimal production impact.
Our fifth-generation devices now cross-communicate, leveraging production systems so that the whole is far greater than the sum of the parts.
By eliminating the need for manual adjustments, we deliver an exceptional stand-alone, high-precision, low-cycletime robotic solution.
Assessing Your Businesses' Special Challenges
After decades of services, we have no doubt handled many problems similar to yours, and we can provide a feasibility assessment for the task you are proposing. Our goal at this stage is to gather enough information to make our base platform selection - benchtop, stand-alone, pallet-conveyor, in-line conveyor, batch-dial, or in-line dial.
Our Systems Use Constant Velocity Contouring
Our systems capitalize on the advantages provided by a dedicated motion control board that delivers features including:
Constant velocity contouring (CVC) across all axis. CVC is crucial for fluid dispensing in time/pressure applications to control.
A variety of interfaces including USB, Ethernet, Hardwire, RS232, PC/104, and PCI. Interface flexibility enables the best selection depending on the application and level of integration desired.
A uniform driver library across all board variants. Uniform libraries enable us to concentrate on our core competency of application problem solving!
Compatibility with steppers, servos, and encoders. All of our CE marked equipment is servo based to help meet European safety requirements.
32 bit RISC processor. This advanced processor handles position control so the computer controller doesn't have to!
Smart Dispensing Saves Resources
When a gasket specification is given, most applications are set up to dispense to the top of the requirement in gasket height so that the day-to-day process variations do not cause an undersized gasket to be produced. This can result in up to 31% waste material. We've eliminated this waste with our precision controls and advanced hardware.
Add to this the additional benefit of producing fewer non-conforming parts and it becomes plain that dispensing gaskets without good process control is a liability most companies can ill afford, a problem New Precision Technology has put in the past.
Simplified Programming Speeds Setup, Reduces Errors
Although our machines typically come pre-programmed as part of an overall turn-key system, we offer training sessions that cover programming for a broad range of applications and we share our experiences that minimize operator training, minimize part defects, and maximize your return on investment.
We have a simple pattern programming scheme that does not require G-code knowledge or specialized training. We also have available tools such as a DXF file reader and a Gerber file reader that allow simplified importing, and a coating application assistant that dramatically reduces programming time for conformal coating and paint application programs.
Automated QC allows unattended operation
Automated quality control is realized quite effectively through our direct machine control model. This enables us to further close the process control loop between sensing and dispensing, allowing the robot to compensate in real-time for process variations. Trainable sensor models can perform signature analysis and allow precision sensors to deal with production variations and still prevent false negatives so that the positives are only those parts with valid problems.
This concept addresses something that is an issue with common, off the shelf (COTS) SCARA or 6DOF robots: dealing with process variability. Without the automation having the capability to adjust automatically to variations in parts, materials, and environment, you need to either accept looser tolerances or greater reject counts. With adaptable automation, there is now a governing automated ombudsman that can fix some of these issues, resulting in higher yields.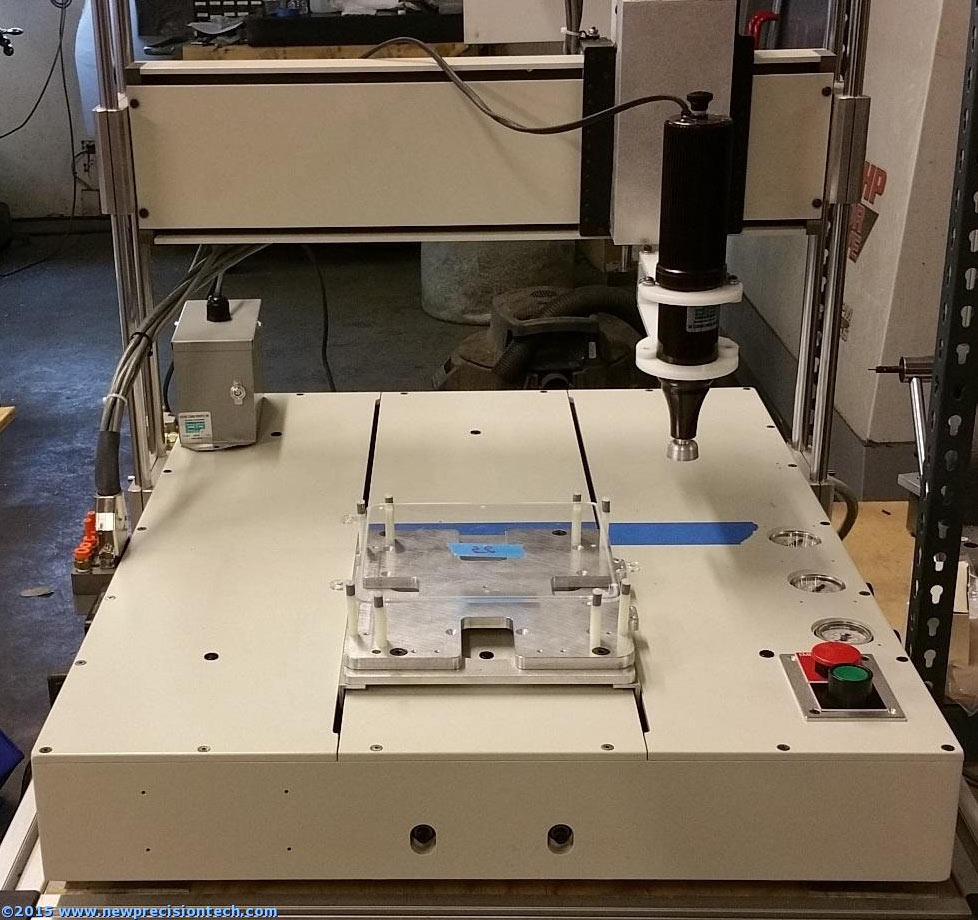 Our History
New Precision Technology, Inc. was founded in 1991 by Axel Van Briesen with the goal of supplying software and hardware tools to streamline programming, equipment setup, and the operation of automated circuit board assembly equipment.
In 1994 a client approached us to design a new piece of equipment with the stipulation that it be based on a compact, bench top Cartesian robot platform. Sensing the potential to bring our existing knowledge to a whole new platform, New Precision Technology, Inc. opted to design a flexible system from the ground up. This enabled the company to customize the base unit to meet the precise needs of a host of new manufacturing tasks. This was the inception of our CP platform. By the end of 1995, New Precision Technology, Inc. had provided units for soldering, dispensing cyano acrylates, dispensing gaskets, and spraying conformal coatings.
In subsequent years, we began developing the tools that address the process variation concerns so prevalent even today: needle tip calibration to address inadvertent changes in needle position, height measurement to address part height variation, vision to address part rotation/translation errors, laser triangulation sensors to address liquid level concerns, and others. These systems are now robust, mature sensing subsystems that can endure the rigors of production environments.
A new line of equipment dubbed the "ICP" made its debut in 2003. This allowed New Precision Technology, Inc. to address the needs of the in-line automation world with a system designed to work over index dials, conveyors, and shuttles. The ICP systems leverage all of the advantages of the CP systems – sensors, software, and tooling – and allow the unattended automation world to address product and process variations. In today's exacting world, it is now crucial that each step in a manufacturing process yields results 100% within tolerance specification. It is no longer sufficient to catch non-conforming parts.
In 2006, New Precision Technology, Inc. began work on a massive software project to integrate these subsystems, leveraging the power of modern interfaces, USB devices, and the Microsoft Windows platform. Today, these subsystems are capable of working in concert, and the benefit is greatly simplified operation. No longer must material pressures be adjusted to maintain part consistency, no longer must parts be precisely fixtured with expensive custom fixtures, and now gasket dispensing is a consistent profit center rather than an operational liability. Advances in usability - automatic CAD conversions, automatic performance tuning, and simplified maintainability including automated diagnostics with internet/machine connectivity - serve to massively accelerate the returns our clients get for their investments.
Current research includes new efforts in 3D scanning, real-time rheology assessment, enhanced dispensing control and further simplification of manufacturing process technology. New Precision Technology, Inc. continues its relentless pursuit of process advances that enable our clients to maintain a competitive edge in this global economy.