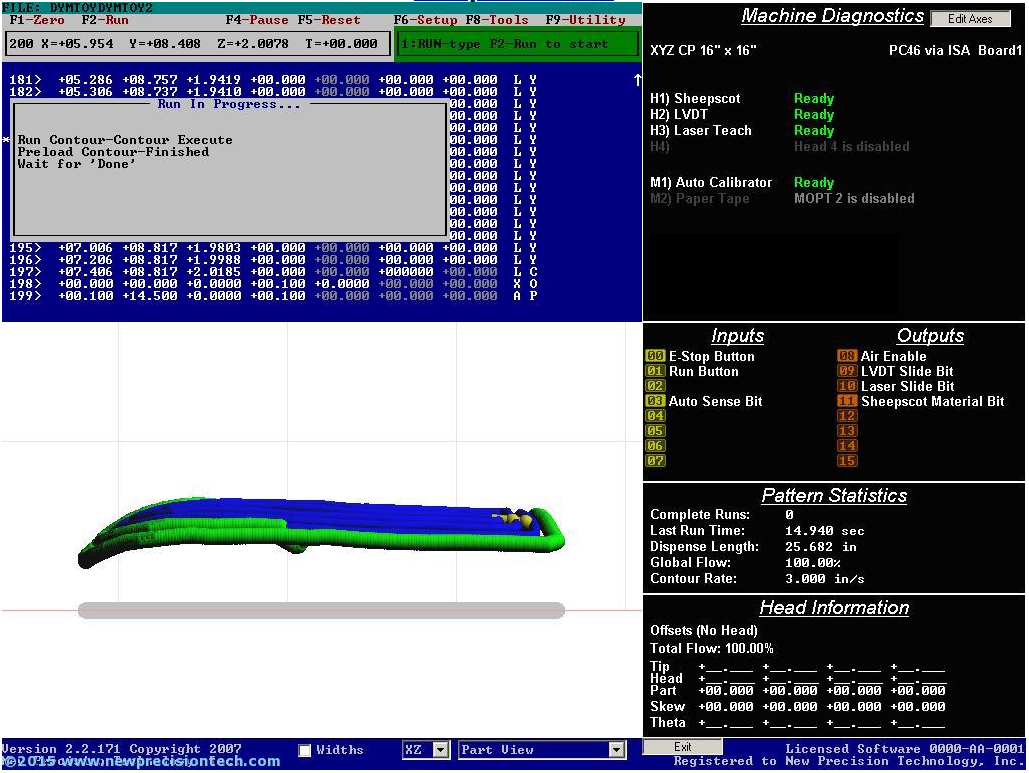 The Spraying, Conformal Coating, and Masking category describes those applications that require some degree of surface area coverage for protective or decorative reasons.
Many coatings are sprayed, but they can be dispensed by many other methods – dipping, vapor deposition, and even brushing. Spraying now not only includes conformal coating, but also the application of greases, lubricants, and slip coat products. Spraying has an advantage in that a large area can now be coated quickly, but the disadvantage is that it operates well only in a narrow viscosity range. Ideally materials from 1 to 1000 centipoise work best, although in unique cases 12,000 and 14,000 centipoise materials have been sprayed in the past. These materials have included greases such as various Nyelube products and even ceramic slurries. The greater the viscosity, however, the more difficult it becomes to achieve good edge definition with spraying. In these cases it makes sense to mask, spray, and then remove the mask. With today's UV curable masks, these multiple operations can often be achieved on a single machine and in a single program cycle when on-board UV curing is brought into play.
Conformal coatings are used to protect electronic components from the elements, insulate electronic components from physical(G shock) and electrical stresses (ESD), and sometimes to gain regulatory approval. Coating materials can be solvent laden acrylics, water-borne materials, two part materials, UV curable acrylic materials, UV urethane materials, and silicones – both solvent born and moisture cure RTV forms. All forms have specific advantages: Moisture cure silicones are low or no VOC materials but can have maintenance issues. UV curables have no maintenance issues but require UV curing hardware and a little more caution when handling. Always examine the MSDS of any potential material candidate to be sure your production situation can accomodate the needs of the material.
Masking can be accomplished as either a spray or a continuous solid pattern dispense. The issue that typically differentiates masking from other coating applications is the fact that at some time during a process a mask is intended to be removed and then leave little or no residue. The removal can be a physical unpeeling or a chemical dissolving, but in either case the mask has to come off!
There are key tools to help close the loop on masking applications. Material pressure feedback and compensation, temperature control, and laser film measurement are all feedback elements to be considered to achieve a consistent, controllable process. As well, with those applications that use dispensing tips, needle tip calibration and height sensing become critical control issues.
Offline programming tools that can accept Gerber files or DXF files and then help to create pattern dispense paths automatically are huge time savers. Without these tools, machine programming and the subsequent adjustment process can consume hours of valuable machine time. With these tools, it can take minutes if not seconds to generate coating programs – even for multiple dispensing heads. Revisions become much less complicated as now the pattern program relates to objects to be avoided versus non-descript pattern commands.
New Precision Technology has been providing conformal coating solutions since 1995 with our CP16 platform. Our platform excels when dispensing moisture cure silicone coatings, UV cure coatings, slip coats, greases, and other materials. Please do not hesitate to contact us with any questions and applications!
Gerber and DXF Offline Programming Aid
Printed Circuit Boards (PCBs) are typically fabricated from Gerber data (aka: EIA RS-274) and as a result are often available for use in other manufacturing processes. DXF data can be made available for many other application types or even readily created on the fly. Both of these data sources can be read by our Gerber Reader software package and used to quickly and efficiently generate pattern programs without causing machine down time.

The Gerber or DXF data here is used to provide a visual frame of reference for the user. The user first defines exclusion or "no-fly" zones by drawing boxes around features to be avoided: connectors, potentiometers, test jack points, headers, etc. Once complete, a "coverage area" is defined and the program automatically generates an efficient pattern program based on user-configurable head data. Up to four heads can be defined with height, clearance, spray width, theta angle, and other characteristics.

Smart analysis routines in the program generator highlight "danger" zones - spray coverage too close to connectors, for example. The package even includes an option to "correct all errors" - a feature that causes the program to do "best-fit" analysis and realign spray and dispense paths for best results.
ICP Slipcoat Spray to allow gaskets to slide on sheet metal
This system incorporates our ICP platform that can work over dials and conveyors. In this case, parts are presented to the machine via a conveyor and are fixtureless. The onboard vision system performs rotational/translational re-alignment using two openings in the part to properly align the program to the part. This ensures a good spray every time, minimizing overspray that could otherwise contaminate a class-A surface. It also includes a spray-pattern sensor, which verifies fluid flow prior to each cycle.
UV Conformal Coating
Conformal coating is a standard application for NPT. Whether UV or silicone, the CP16-3 and CP16-4 excel in maximum coating utilization, minimizing waste of material. Equipping the unit with digital pressure sensors for material and atomize pressures, laser-based coating thickness measurement, and spray pattern sensing all serve to reduce operator error and ensure consistent throughput. Multiple valve types and theta axis mounts for valves can be used on one machine to handle any obstacle on the substrate. UV cure units can also be integrated directly into the work envelope, to provide a fully cured product upon pattern program completion.
UV Cure Masking
Masking of production parts is exclusive to no particular industry. Whether conformal coating, painting, plating, anodizing, chemical etching or bead blasting, a variety of part features often need to be protected from these manufacturing processes. UV curable masks offer a 100% solids, no VOC solution to what has traditionally been a solvent intensive process. New Precision Technology's CP and ICP systems streamline the application of these materials on surfaces that can be complex 3D topographies. Here again our height measurement and absolute referencing systems eliminate the headaches of setup these applications have imposed in the past.
Tools & Resources
Conformal Coat Material Usage Calculator
This calculator estimates the amount and cost of material used in a conformal coat application. It also provides an estimate as to how much time is required to dispense the material.
Links
Industry Links. Essential web sites for gasket compounds, soldering materials, conformal coating materials, cyano-acrylates, epoxies, and other materials. Look here for safety links (manufacturers of safety equipment as well as a link to OSHA) and other industry resources.
White Papers
White papers, articles, and other resources on a variety of topics such as Return On Investment, Process Control, and Dispensing Techniques and Considerations.
---