Technology on the Move
Our products are continually under technical development for new advances in both hardware and software.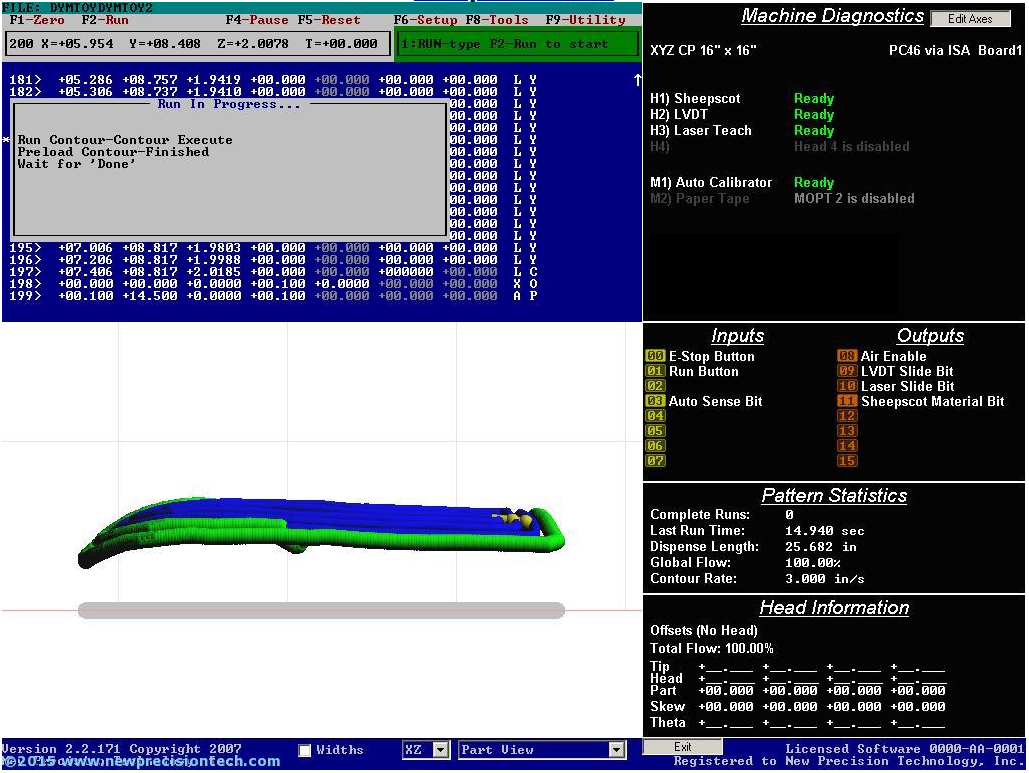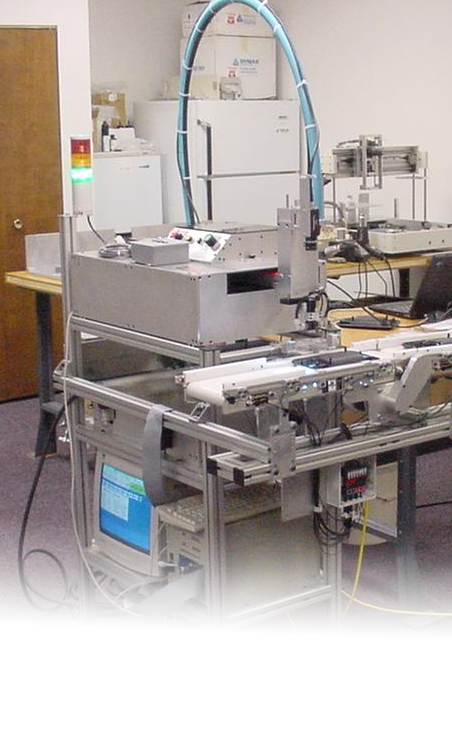 At New Precision Technology, our robotic dispensing solutions are comprised of a variety of components and component selections. This allows us to provide solutions that are among the most comprehensive in the industry, ranging from software and bases to fixtures, accessories, and feedback options.
Automation Software
Software represents one of the key elements to successful automation. One unique aspect of our software is that we do not store our pattern programs on a separate controller. This enables us – unlike some competing machines – to incorporate sensors and systems in real time. Robust, real-time control enables us to account for process variables that would be cumbersome to manage with a CNC-type control.
Bases
Designed to maximize flexibility, reconfigurability, accuracy, and speed, our CP and ICP systems feature a bearing design life measured in decades, with minimal maintenance needs.
These systems conform to CE Emissions and Immunity test specifications, meeting EN 61000-6-2:1999 Electromagnetic Compatibility (EMC), 12/CIS14 CISPR 14-1 Emissions, CISPR 11 Group 1 Class B for industrial, scientific, and medical equipment.
Fixtures
Fixtures are a key part of the consistent production process. At New Precision Technology, our Fixtures:
Have ample finger clearance, allowing operators or other material handling elements to quickly load and unload parts.
Can be easily cleaned up if there is a need to do so.
Can be rapidly interchanged with other fixtures without concern for updating offsets or making height adjustments.
Are poka yoke'd so that a production level operator cannot err when changing fixtures.
Base Mounted Accessories
Many devices can be added to the base platform of a CP16 dispenser to increase its utility.
Purge cups
Material detection stations
Part inspection mezzanines
UV Cure station mezzanines
Magnetizers to magnetize blank magnets
Hot Melt glue heads to apply adhesive to the bottom of parts
Activator applicators to apply activators to the bottom of parts
Vibratory bowlsBar code reader stations to identify parts, pallets, or tracking IDs
Typically, the total cycle time in a gasket dispensing operation is 60 seconds. Contrast this with an ICP based system where the part is on an index table and there the cycle time in this application is 21 seconds with one second for part index time. In situations where the volumes are moderate or there are other mitigating circumstances, the CP system with on board UV cure is a very cost-effective option.
Feedback Options
Our feedback options include Head Mounted Sensors, Part Measurement Sensors, Height Measurement Probe, and Tip Calibrations.
Heads
Heads are any selectable device that can be mounted on the z-axis of the machine. Valves, lasers, grippers, LVDT probes, cameras and more fall into this category.
Available heads also include peristaltic pump enhancements, head mounted sensors, and valves, like our needle valve with pneumatic selector slide.
Software
USB Video Camera Interface
Speed Compensated Fluid Control
3D Graphic Path View
Software Improvements
Automated QC allows unattended operation
Native DXF file import
Operator Screen
Velocity/Acceleration Optimizer
Web-based system monitor
Automatic Tuning Features
Bases
20" Cartesian Positioning Base
Dual Y Axis Configuration To Boost Productivity
Machine footprint and safety
16" Cartesian Positioning Base
24" Cartesian Positioning Base
In-line Cartesian Positioning Base
Fixtures
Conveyors - The Anti-Fixture
Fixtures - Adjustable
Fixtures - Dedicated
Fixtures - Three Ball Array
Base Mounted Accessories
Gasket Dispensing and Conformal Coating With On-Board UV Cure
Feedback Options
Head mounted sensors
New Height Measurement Probe Improves Speed and Accuracy
Part measurement sensors
Tip calibrations
Heads
Peristaltic Pump Enhancements
Head mounted sensors
Valves